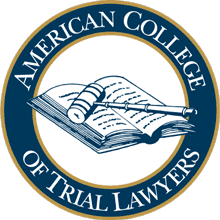 American College of Trial Lawyers

Frequently Asked Questions
Is the content on this site free and open to the public?

Most content in the Learning and Resource Center is free and available to anyone who logs in to the site. Fellows should use their usual ACTL.com login credentials. Non-Fellows can create an account to gain access to most materials. Certain items are only available to Fellows of the College, and some items are only available to paid registrants, such as access to speaker videos from one of the College's National Meetings.
What does "registration" mean in the Learning and Resource Center?
If you see that you are registered for something, it simply means you have access to watch or read the content. Our content is overwhelmingly available for free, but paid registration for an Annual or Spring Meeting is still open only to Fellows, and registration for those events is handled on the appropriate event page at actl.com. If you are logged in, you don't need to go through a registration process for most of the content. If you are seeing an indication that you need to register or pay for something in your cart, even if the item is free, that probably means you are not logged in.

What is the Dashboard?
The dashboard may display items for which you have registered or that you have viewed.
What is the Catalog?

The Catalog displays a list of all the content items in the Learning and Resource Center.
How can I watch the speakers from previous meetings?

Speaker videos from past meetings are available on the Past Meeting Speakers page. Only Fellows are permitted to watch speaker videos from previous meetings. If you are a Fellow who registered for virtual access to a meeting, be sure you are logged in, and click on Past Meeting Speakers. If you were not registered for a meeting, you may be able to purchase access to the speaker videos. Click on Past Meeting Speakers and locate the meeting that interests you for more information. Approximately 14 months after the conclusion of a meeting, all speaker video content will be opened for access by all logged-in Fellows.
What is the Committee Toolkit?

The Committee Toolkit includes resources helpful to the Chairs, Vice Chairs and Members of the College's committees. Access to most of the materials in the Toolkit is restricted to Fellows.
| Access Date | Quiz Result | Score | Actions |
| --- | --- | --- | --- |