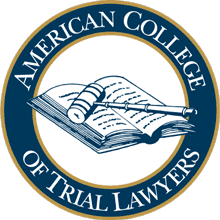 American College of Trial Lawyers
Pro Bono Symposium: November 10, 2022 from 2-5pm ET
Speakers and panelists discussed how pro bono service can enhance one's trial career and can provide younger lawyers with trial experience, as well as the importance of partnering with outside counsel on meaningful access to justice work. This free, virtual program is available to Fellows and non-Fellows. Click Watch Now to register. If you watched the live program on November 10, 2022 and need assistance locating your certificate, please email actlmeetings@actl.com

Agenda
Welcome and Introduction of Keynote Speaker: 10 minutes
Susan Harriman (ACTL President)
Keynote Speaker: 30 minutes
Michael Jones (Kirkland & Ellis LLP)—Mike will speak about his recently concluded, very successful federal court litigation wherein he represented four Maryland Historically Black Colleges and Universities to address and rectify the second-class, racially unjust treatment they had historically received from the State of Maryland as to programming and funding. Mike will also discuss how his pro bono service has enhanced his career as a trial lawyer.
Break: 5 minutes
Panel 1: 45 minutes
Title: Trial Lawyers of the Future: Helping the Next Generation Develop Their Skills Via Pro Bono Service
Moderator: Terri Mascherin (Jenner & Block LLP)
Panelists: Diane Menashe (Ice Miller LLP); Barbara Butterworth (Finnegan); Dara Sheinfeld (Davis Polk, New York)
Description: The panelists will focus on and provide examples as to how pro bono/access to justice work can provide younger lawyers with valuable trial experience which is often not available to them through their normal billable work. The panelists will also discuss pro bono opportunities that may be especially beneficial for younger trial lawyers.
Break: 5 minutes
Fireside Chat: 30 minutes
Feature: Kimball Anderson (Winston & Strawn LLP)
Moderator: Rachel Brown (Davis Wright Tremaine LLP)
Description: Kimball will discuss how his extensive pro bono and access to justice work has enhanced his overall legal career and, in particular, his skills as a trial lawyer.
Panel 2: 45 minutes
Title: Corporate and Outside Counsel Partnering Together to Close the Access to Justice Gap
Moderator: Doug Mitchell (IMK/LLP)
Panelists: Veronica Davis (Assistant VP and Senior Legal Counsel, AT&T); Bergitta Trelstad (General Counsel, Zulily)
Description: The panelists will discuss the importance of and provide examples of partnering with their outside counsel on meaningful access to justice work.
Closing: 10 minutes Jointly presented by Mark Surprenant (Adams and Reese LLP) and Tiffany Graves (Co-President of APBCo)
| Access Date | Quiz Result | Score | Actions |
| --- | --- | --- | --- |